New Book Addresses Non-Motorized Transport Integration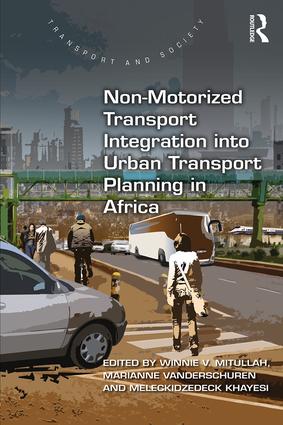 What challenges do pedestrians and cyclists face in cities of the developing world? What opportunities do these cities have to provide for walking and cycling?
Based on in-depth research conducted in Cape Town (South Africa), Dar es Salaam (Tanzania) and Nairobi (Kenya), a newly-published book, Non-Motorized Transport Integration into Urban Transport Planning in Africa, explores these questions by presenting work on walking and cycling travel behaviour, the status of road safety in these cities, as well as an analysis of the infrastructure for walking and cycling, and the workings of the institutions responsible for planning for these modes. The book also presents case studies relating to particular opportunities and challenges, such as the development and evaluation of 'walking bus' interventions, and the opportunities micro-simulation of pedestrian interventions offers within a data-scarce environment.
The book, which is edited by Winnie V. Mitullah, Marianne Vanderschuren, and Meleckidzedeck Khayesi, and published by Routledge, is aimed at practitioners and policy makers working in planning, transport policy and urban development in Africa, as well as students and scholars of African studies, development studies, urban geography, transport studies and sustainable development.
Read more HERE.
---