Live from Leipzig: #RethinkMobility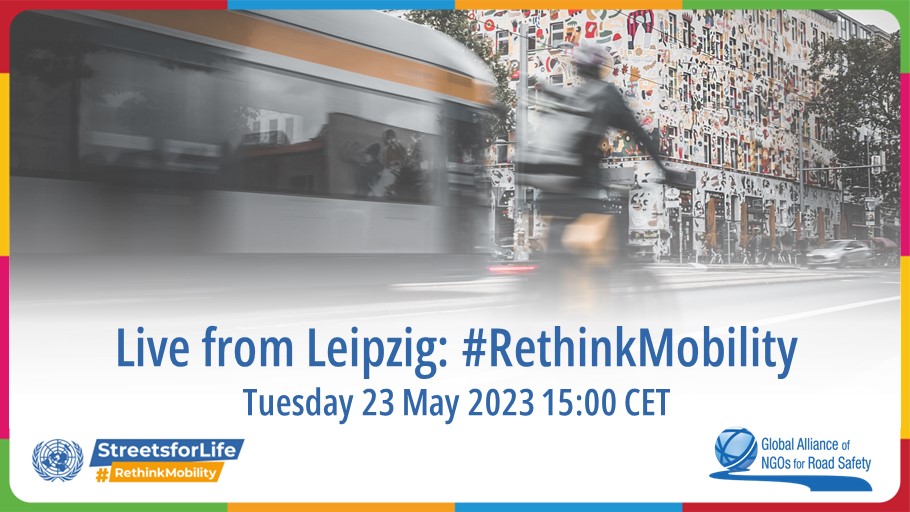 The 2023 UN Road Safety Week campaign will focus on modal shift, under the theme #RethinkMobility, and it will seek to promote safer cycling, walking and public transport.
As part of the week's #RethinkMobility campaign, the Alliance will organize a live streamed event Live from Leipzig: Rethinking Mobility (Rethinking Mobility).
We invite you to tune in to our livestreamed event from the ITF OECD in Leipzig, Germany on Tuesday 23 May 2023 at 15:00-15:45 CEST for a dialogue with Juan Carlo Muñoz, the Chilean Minister of Transport and Telecommunications, the Mayor of Leipzig, and Veronique Feypell of the International Road Federation.
This event will be held on a moving tram to demonstrate how good public transport can be an enabler for safer roads and more sustainable cities.
Our guests will be joined by Lotte Brondum, the Executive Director of the Alliance, to talk about how they are rethinking mobility in their countries and how to promote and implement different initiatives and road safety interventions that can support modal shift.
This event will seek to have an impact with local and international media, as well as to provide a platform for civil society to present a declaration for safe mobility.
Register HERE.
---