7% Project to Save 7 Children a Day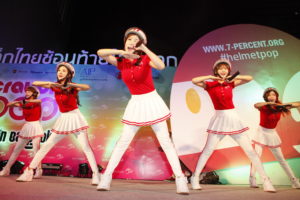 Thailand has the 2nd deadliest roads in the world. Traffic collisions kill more than 7 children every day. Unfortunately, only 7% of children in Thailand wear helmets when riding on motorcycles. In response, AIP Foundation and Save the Children have launched a nationwide campaign, The 7% Project, to decrease motorcycle death and injury among children by increasing helmet use.
The 7% Project is a three-year initiative focusing on behavior influence strategies, education, and enforcement to increase helmet use and helmet-wearing awareness among children, ultimately decreasing the number of road crash injuries and fatalities across Thailand. The project incorporates a media campaign that aims to find creative ways to make helmet-wearing the norm. The project launched in November 2014 with the help of a helmet-wearing K-pop group, Crayon Pop. Over 1,600 fans attended the launch, where they were asked to ensure youth always wore helmets on motorcycles. The project is focusing attention in schools, and will expand beyond schools and to other provinces while engaging the greater community around the cause.
The 7% Project strives to find creative ways to make helmets the norm for youth and has mobilized the artistic community of Thailand to generate support. Prior to the launch, the project held a 'slogo' – or slogan and logo – competition to utilize the talents of Thailand's youth. Later, Thai artists decorated helmets in unique and creative ways in support of the campaign for a silent auction supporting the project.
In December 2014, the project launched its first PSA, a minute-long YouTube clip urging all riders to wear their helmets. The clip features local and international celebrities such as host John Winyu, actor Dom Hetrakul, Ukulele star Sophicha "Gail" Angkawaimongkol, and K-pop group Crayon Pop. The campaign's social media platforms feature "My Helmet Story," where celebrities are interviewed on the importance of their helmets and viewers can share their personal stories using the hashtags #helmetstory and #helmetpop.
Since the project's launch, over 10,000 supporters have pledged to wear helmets on motorcycles on Change.org. These petitions will be presented to the Thai government to advocate for stricter enforcement of the child helmet law. In April 2015, Dr. Pusadee Tamthai, Deputy Governor of Bangkok Metropolitan Administration (BMA) Thailand, also signed the pledge in support of The 7% Project.
---