Prerana Arora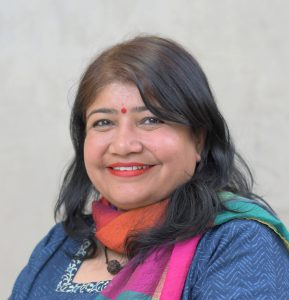 Ms. Prerana Arora Singh, is a road crash survivor, a passionate road safety advocate, consultant, policy shaper, researcher, and a post-crash care management expert hold the position of CEO and founder Managing Trustee of Peoples Trust, Jaipur (INDIA) since its inception in 2007.
She has also served as a Founder Centre Coordinator, at Centre for Road Safety, Sardar Patel University of Police established under the Home Department, Government of Rajasthan (from 2014 to 2019) and represented various Task Forces and Committees formed for Road Safety by Government, Corporate (FICCI and CII), and Non-Government organizations at State, National, and International Levels.
Presently, she is leading a citizen engagement capacity building and mass awareness generation program for the Government of Madhya Pradesh, India funded by the World Bank since April 2021.
Recently she submitted her Ph.D. thesis titled "Road Safety System and Post-Crash Care Management Practices in India". She is also a scholar of the prestigious International Delft Post Graduate Road Safety Course (Netherlands) and Global Road Safety Leadership Training Course (Malaysia) along with Global Alliance Road Safety Advocate training (USA).
Over the course of the past two-decades-long career (since 2004) in the field of Road and Life Safety, she has successfully handled various government and non-government projects, capacity-building programs, national awareness campaigns such as #1CroreHandsTogether for Road Safety, #Donate1CroreSteps, National Conferences, and researches, UNGRSW, UNSDG, WDoR events at PAN INDIA level. She actively contributed in designing the "Action Plan for Road Safety" for Rajasthan State Government and served as a Special Invitee, nominated by Hon. Chief Minister, Government of Rajasthan (INDIA). She laid recommendations to develop an Action Plan with a focus on the 5 pillars of Decade of Action for Road Safety including mainly Speed Management plans with a focus on pedestrian safety, Helmet & Seat Belt enforcement and awareness strategies, scientific crash investigation training, crash data recording, analysis and evaluation process, capacity building programs for NGOs and Government officials, Good Samaritan guidelines etc.
As a Team Leader of an advocacy project of GRSP, successfully advocated for the removal of the exemption of Helmet Law in the State of Rajasthan. This has resulted in bringing down the road crash injuries and fatalities in Rajasthan (INDIA) and also increased the enforcement manifold (+270% from the year 2014 to the year 2017).
In 2022, she successfully completed an international task as a Course Coordinator for an international road safety management training course conducted under "Consultancy services for Institutional Strengthening on Road Safety & Gender Equality" for the Nepal Government funded by ADB where her duties were to prepare technical training material and deliver the sessions along with coordinating local government stakeholders for field visits of Nepal delegation. She has completed graduation in Science Biology and doubles post-graduation degrees in Public Administration and Business Administration (Human Resources).