YOURS awarded Best Road Safety Initiative at 2014 FUNDACIÓN MAPFRE Awards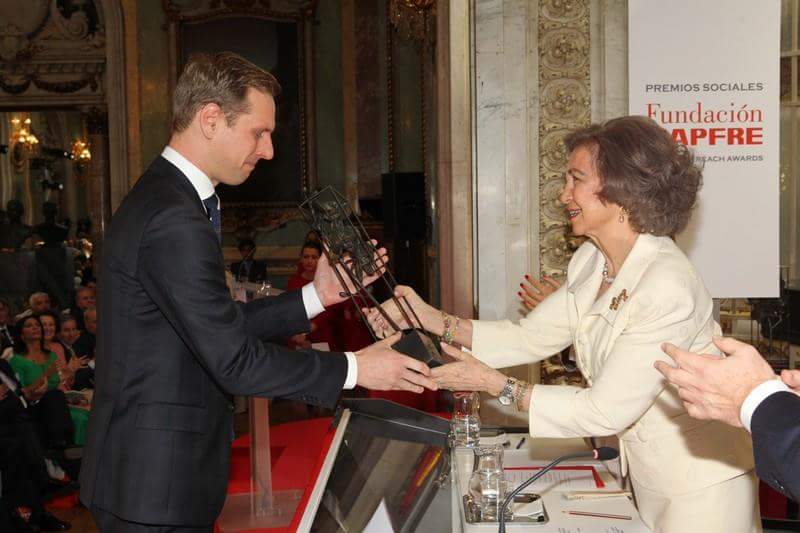 Out of 450 nominations for the 2014 FUNDACIÓN MAPFRE Social Awards recognizing people and institutions that have made outstanding international contributions for the benefit of society, the unique Capacity Development Program of Alliance NGO board member Youth for Road Safety  (YOURS) from the Netherlands was selected as the Best Road Safety initiative and awarded a prize grant of 30,000 Euros. Her Majesty Queen Sofía of Spain chaired the Award Ceremony on the 18th of June at the prestigious Casino of Madrid.
YOURS' Capacity Development Program has three elements: the  Youth and Road Safety Action Kit , the Youth and Road Safety Workshops and, its flagship workshop, an intensive two-week Training of Facilitators. The Program has been created by young people for young people and maximizes learning through fun and active participation. It introduces youth to road safety, inspires them, and equips them with the knowledge and the skills they need to take immediate action. The Program is attractive, youth friendly, and highly interactive, giving much-needed attention to the global threat of road safety facing young people. Workshops under the Program have been conducted all over the world including the Sultanate of Oman, Cambodia, Kenya, Niger, Italy, St. Lucia, and Belize. It has already reached tens of thousands of youth worldwide and continues to create ripples of action for safer roads the world over.
Globally, road traffic crashes are the number one killer of young people, ahead of HIV/AIDS, tuberculosis, and malaria. Every day more than 1,000 young lives (under the age of 25 years) are lost and thousands more young people are injured on the world's roads. The numbers are not merely statistics. Behind each number is a person, a family, a friend, and a story of how life can change in an instant. However, these deaths and injuries can be prevented. Youth want to be part of the road safety solution and claim a seat at the decision-making table. In response to this crisis, many young people set out to become road safety activists, raising awareness among their peers and advocating for the cause to their governments for more serious action. The global youth movement for road safety is gaining pace but there are still many who find road safety information inaccessible to them and there are many additional passionate individuals who need guidance in getting started. This is precisely why YOURS developed their Capacity Development Program.
Director of YOURS Floor Lieshout said on the importance of the award, "On behalf of the entire team of YOURS – Youth for Road Safety, it is an absolute honor to accept this distinguished award. We are thrilled to receive this award from such a well-respected organization, FUNDACIÓN MAPFRE, a leader in the field and esteemed colleague at the United Nations Road Safety Collaboration. It is an extreme pleasure to get this important recognition for our hard work over the past couple of years."
---