World Day of Remembrance for Road Traffic Victims (WDoR) 2013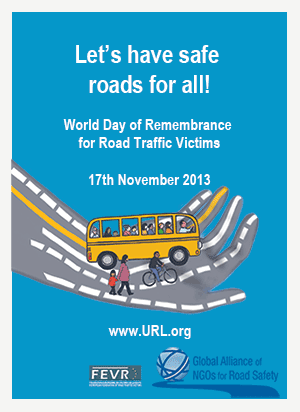 This year's WDoR is Sunday, 17 November and this year's theme is: "Let's have roads that are safe for all."
A WDoR poster and video is being offered free of charge by FEVR to all NGOs. You can either directly download the blank versions and add your logo and wording in your language, or send a request to add logos and wordings to: manuel.ramos@iscte.pt , of the Alliance's Road Victims' Working Group.
You can use the poster and video in all communications, request TV channels to air the video, share it in social media, and even show it in WDoR celebrations. Please, forward information on your planned activities to the editor of the WDoR website, to have them listed there and to prepare a worldwide press release. For this, please contact:
editor@worlddayofremembrance.org
Links: poster  and video (middle resolution  video and high resolution  video).Statement  of the Chair of the United Nations Road Safety Collaboration, Dr. Etienne Krug.
---