We need you to Save Kids Lives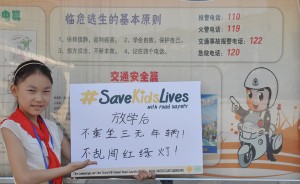 What? #SaveKidsLives is the official campaign for the Third United Nations Global Road Safety Week. The campaign is calling for action to save children's lives on the roads around the world. For more information: www.savekidslives2015.org.
Why?  In developing countries in particular, a growing epidemic of road traffic deaths and injuries is hindering the right of children to safe mobility. Around the world more than 500 children are killed every day in road traffic crashes. Tens of thousands more are injured, often suffering lifelong disabilities. Urgent action is needed in all countries to address this health and development challenge.
How? Go to the www.savekidslives2015.org website and read the declaration, sign it, ask your friends and network to sign it. By signing it you:
call for action to stop the growing number of road deaths worldwide;
ask decision makers to save kids' lives by putting road safety in place;
support the movement for road safety led by children around the world.
What more? 
Download the signboard and write your road safety message! Also available on www.savekidslives2015.org
Take a #safie.
Share it on Facebook,Twitter and Instagram with the hashtag #Safie and #SaveKidsLives.
Click for more information in English, French and Spanish
---