Start planning for World Day of Remembrance for Road Traffic Victims (WDR) 2015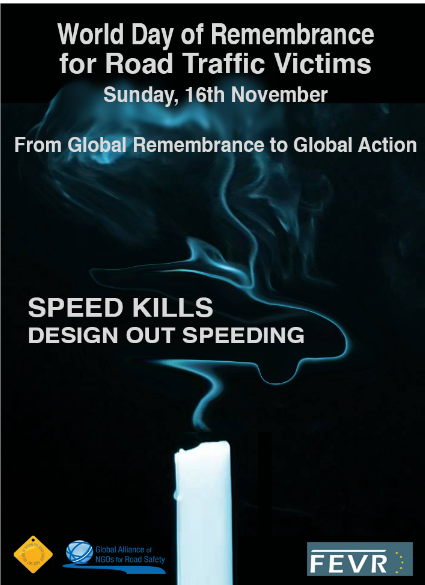 By Brigitte Chaudhry – Author and Editor of the World Day website
The World Day of Remembrance for Road Traffic Victims is commemorated on the third Sunday of November each year – to remember the millions killed and injured on the world's roads, their families and the many others who are also affected. The World Day has a long history:
From 1995, road victim organisations under the umbrella of the European Federation of Road Traffic Victims (FEVR) observed this Day together – first as European Day of Remembrance, but soon as World Day when NGOs from Africa, South America and Asia, who were associated members of FEVR, joined. FEVR is therefore the Creator and first owner of the World Day. The idea of a common day on which to remember road traffic victims, came from RoadPeace, FEVR's member organisation in the UK.
10 years later – on 26  October 2005 – the World Day was adopted by the UN General Assembly as "the appropriate acknowledgement for victims of road traffic crashes and their families".  Since then, the World Day has been commemorated across all continents – not only by NGOs advocating for road safety and road victims, but also by governments and other stakeholders. In 2015 we are therefore celebrating the 20  anniversary of observing the World Day internationally and the 10  anniversary of its adoption by the United Nations.
The World Health Organisation (WHO), elected by the UN as 'Coordinator for tackling the global road safety crisis' in 2004, continues to promote global recognition of the World Day. WHO also published a Guide for Organizers of World Day events written jointly by WHO, FEVR and RoadPeace: http://www.who.int/violence_injury_prevention/road_traffic/activities/remembrance_day_handbook/en/index.html
Dr Etienne Krug, WHO Director of the Department for Violence and Injury Prevention, and UN Secretary General Ban Ki-moon have issued World Day messages since 2005. Link to messages in 2014: http://www.who.int/roadsafety/remembrance_day/statement_2014/en/  http://www.un.org/en/roadsafety/remembrance.shtml . Politicians in many countries have already expressed support for the World Day in many diverse ways. This support is being lobbied for by road crash victim- and road safety advocacy NGOs. On two continents – Europe and Africa – resolutions to observe the World Day were adopted in 2011 by
Road deaths and injuries are sudden, violent, traumatic events. Their impact is long-lasting, often permanent. Each year, millions of newly injured and bereaved people from every corner of the world are added to the countless millions who already suffer. The grief and distress experienced by this huge number of people is all the greater because many of the victims are young, because many of the crashes could and should have been prevented and because governments' and society's response to road death and injury and to those affected is often inadequate, unsympathetic, and inappropriate to a loss of life or quality of life. This special Remembrance Day is therefore intended to respond to the great need of road crash victims for public recognition of their loss and suffering. It has also become an important tool for governments and those who work to prevent crashes or respond to the aftermath, as it offers the opportunity to demonstrate the enormous scale and impact of road death and injury and the urgent need for action. Many varied commemorative events are held on World Day or on the days before or after, as shown by these examples: Africa  Nigeria: radio talk shows, mass bus parade; Kenya: road safety caravan through cities; Benin: awareness walk, concert, wreath laying; Uganda: public discussions & memorial service; Egypt: advocacy sessions in schools; Tanzania: multi-faith prayers & speeches; Cameroon: placing wreaths on locations of fatalities; Asia India: conference on investigation & justice; Philippines: memorial walk & mass; Indonesia: whole month of activities; Japan: candle-lit vigils &meetings in 7 cities; Lebanon: tree-planting in a remembrance garden; Vietnam: requiem service with 15,000 participants; China: in-school activities; Turkey: unveiling of memorial to victims; S America Mexico: photography contest; Guyana: unveiling of remembrance wall; Brazil: inauguration of the Forest of Life; Uruguay: publication of testimonies of crash victims; N America Canada: conference; Antigua: presenting food vouchers to victims; Oceania  Australia: remembrance service; New Zealand: display of crosses Regarding Europe – the World Day of Remembrance continues to be observed in all countries represented in the European Federation of Road Traffic Victims, in many of them already for 20 years: Croatia, Ireland, Slovenia, UK, Luxemburg, Belgium, Romania, Greece, Spain, Portugal, Poland, Germany, Switzerland, Italy, Netherlands, Bulgaria and France. Serbia, Lithuania, Ukraine and Moldova have recently joined in celebrating the World Day. Please check this link for messages and reminders relating to the World Day of Remembrance for Road Traffic Victims: 
http://worlddayofremembrance.org/worlddaynews/
A dedicated website, set up (in 2008) and administered by FEVR, provides examples of past commemorations and publications and invites contributions from all organizers of World Day events.
It also offers the opportunity to link countries and individuals – through sharing common objectives and the remembrance of people killed and injured in crashes:  http://www.worlddayofremembrance.org
Annual World Day posters and videos for use by World Day event organizers are produced and offered for sharing by the European Federation of Road Traffic Victims (FEVR).
Logos, publicity and advocacy materials are also being shared via the website – so far chiefly provided by FEVR/ FEVR member organizations, but other WDR organizers are invited to offer suitable materials for sharing with others. Further, website visitors are invited to submit testimonies from victims, information on memorials to road victims in their country, and various publicity/advocacy materials, to be listed under their countries and continents.
---