PRESS RELEASE: Walking the Talk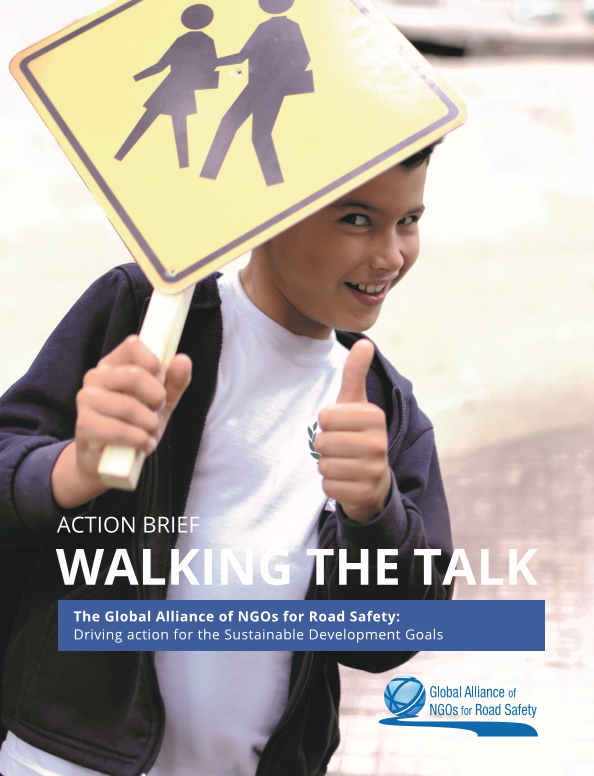 Small Steps, Big Impacts toward Reducing Global Road Casualties
5 October 2017
Today, the Global Alliance of NGOs for Road Safety (the Alliance), launched its new publication Walking the Talk,1 at the Every Journey, Every Child International Conference organized by the Global Initiative for Child Health and Mobility, in London, UK.
Walking the Talk describes the response of the Alliance and its member NGOs to the call for action represented by the Sustainable Development Goals (SDGs), with focus on SDG 3.6 ("By 2020, halve the number of global deaths and injuries from road traffic accidents") and 11.2 ("By 2030, provide access to safe, affordable, accessible, and sustainable transport systems for all.")2 The publication argues that the SDGs are a shared responsibility involving governments, NGOs, corporations, and bi- and multilateral stakeholders and that NGOs can be effective partners in achieving change.
Through its capacity-building initiative, the Alliance Empowerment Program, the Alliance is equipping NGOs to take a more evidence-based, goal-oriented, and strategic approach to their work. Launched at the end of 2015, this groundbreaking program is already gaining traction and showing results.
Walking the Talk offers a glimpse of what can be achieved with strategic investment in road safety NGOs, with reference to the Alliance Empowerment Program. It tells stories of individuals gaining new skills and mind-sets, and, as a result, NGOs becoming more visible and effective. From a national seat belt campaign in Tunisia, which saw road deaths decrease by 35% in two months3, to infrastructure improvements that have reduced road injuries around five schools in Addis Ababa4, Alliance member NGOs are taking small steps that can lead to big, measurable results, and they are helping to save lives around the world.
Road crashes account for 1.25 million deaths each year and are the number one cause of death for 15–29-year-olds. Without intervention, road crashes are projected to be the seventh leading cause of death globally by 2030.5
Urgent action is needed to address this. The Alliance is seeking to maintain the momentum of the Empowerment Program, and we invite all stakeholders to partner with us in this journey.
Lotte Brondum, Executive Director, Global Alliance of NGOs for Road Safety, said: "NGOs are the ears, eyes, and voice of the global road safety problem on our roads. The Alliance Empowerment Program, which has been funded by FedEx, is demonstrating how, with strategic training and investment, the effectiveness of these NGOs can be magnified and produce measurable results toward achieving the road safety SDGs. Walking the Talk shows the impact the Empowerment Program has had on our NGOs, and what differences it has made in their work."   
Etienne Krug, Director of the Department for Management of Noncommunicable Diseases, Disability, Violence and Injury Prevention, WHO, said: "The SDG targets linked to road safety cannot be achieved without the support of the NGO community. We know what it takes and what action is needed to make our roads safe. As an umbrella organization for road safety NGOs, the Global Alliance of NGOs for Road Safety plays its role, representing and equipping NGOs to work as key partners toward reducing the 1.25 million road deaths around the world each year."
Notes for editors:
The Global Alliance of NGOs for Road Safety was established in 2012 by the World Health Organization (WHO) and NGO members of the United Nations Road Safety Collaboration as an umbrella organization for road safety and road victim NGOs around the world. It currently represents 200 members in more than 90 countries, ranging from large NGOs working across a number of countries to small grassroots organizations resourced by volunteers. It works through networking and sharing, advocacy, and capacity building.
The Alliance Empowerment Program is a multiyear capacity-building program. It was informed by a needs assessment conducted among Alliance members in 2015 and incorporates intensive face-to-face training, webinars, mentoring, and small grants for grassroots projects with the potential for scalability and replicability in other countries. The centerpiece of the Empowerment Program is the Alliance Advocates training, which includes an intensive two-week course and follows up with ongoing mentoring and evaluation. Between 10 and 15 Advocates are selected each year through a highly competitive application process. During the training, they create a measurable, goal-oriented action plan, which is implemented in their home country. Afef Ben Ghenia and Mesganaw Bimrew are graduates of the 2016 Alliance Advocate training.
Press enquiries:
Liz Man, Communication Manager, liz@roadsafetyngos.org
---