NGOs recognized in Prince Michael International Road Safety Awards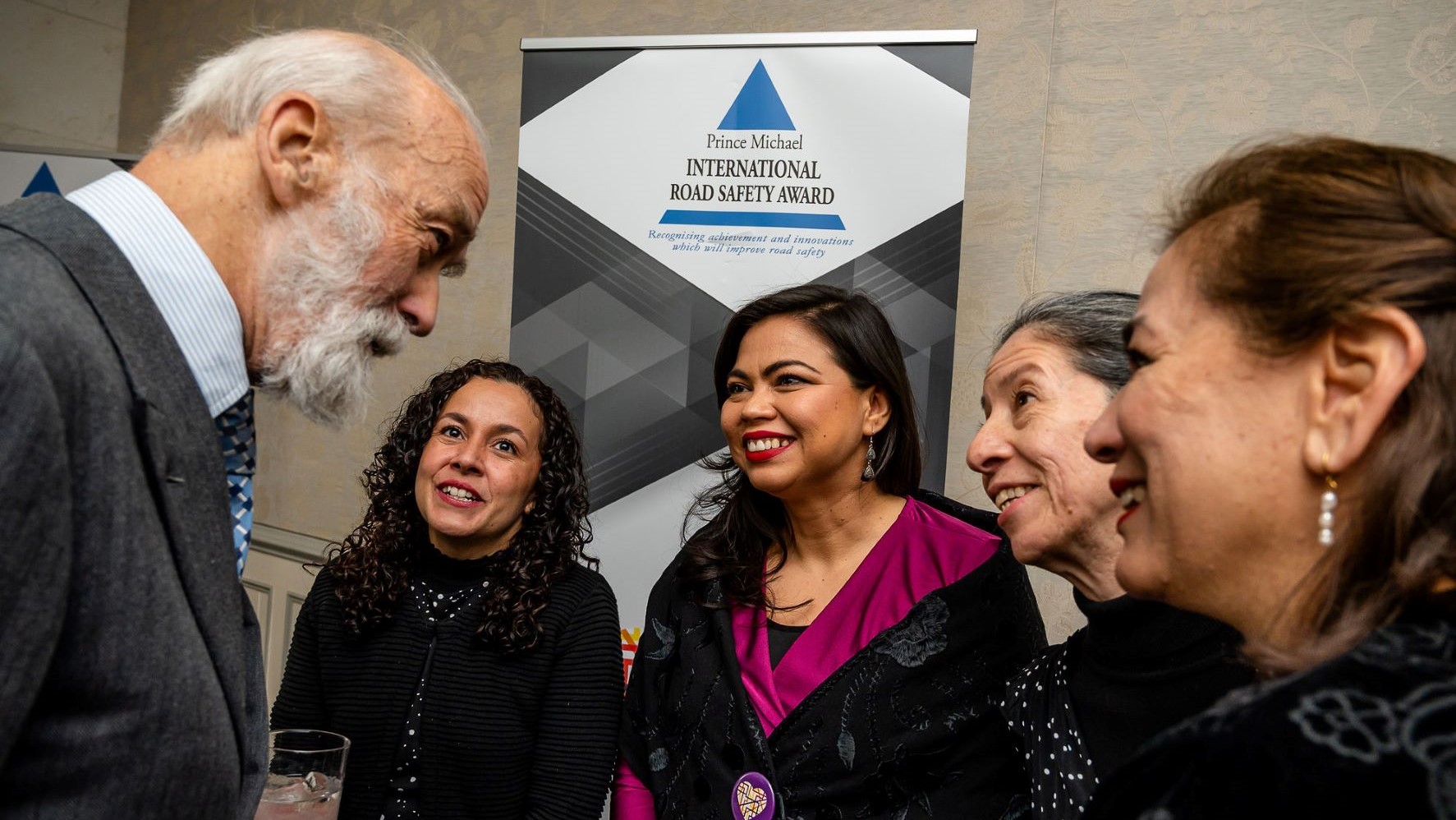 "I have been impressed by the growing success of work being done by NGOs, usually working in partnership," said HRH Prince Michael of Kent, announcing the 2022 Prince Michael International Road Safety Awards. "I am especially pleased that many of my award winners this year reflect this significant development."
We congratulate all the winners of this year's Prince Michael International Road Safety Awards, especially our Alliance member NGOs. We are delighted to see the NGO community being recognized for the increasing strength of their work.
We are especially proud of the role of the Alliance Incubator program in supporting the prize-winning programs of Luchemos Por La Vida and Asociacion Madres Del Dolor in Argentina and Road Safety Pioneers in Iran.
Read about our members' winning projects below.
The Safe Mobility Coalition, Mexico (including Alliance members Reacciona x la Vida, Centrico, Bicitekas, Jóvenes Salvaguardas, Mexico Previene, Movilidad y Desarrollo México, and Víctimas de Violencia Vial AC)
The Coalition Safe Mobility brings together 70 organizations, including several Alliance Member NGOs, specialists, and victims' families throughout Mexico, creating a strong citizen's task force through advocacy, technical work, and communication. The Coalition advocated for the recognition of the right to mobility in the Constitution, and for the unanimous approval of the first Mexican Law on Mobility and Road Safety. The Coalition´s technical team drafted a bill elaborated in a collaborative way, presented by a senator, and was the basis of the Law approved. Read more HERE.
Safer Infrastructure for Cyclists and Pedestrians in Mashhad City, Iran (a project led by Alliance member Road Safety Pioneers)
In Mashhad city, pedestrians account for 51% of all fatalities. Safety is among highest concerns for current and potential cyclists. Since 2019 Mashhad Municipality started a programme to provide safer infrastructure for cyclists and pedestrians. This include improved safety of 125 intersections and 112km of new dedicated cycle lanes which have helped more citizens to use this clean modes of transport. The project led to remarkable reductions in driver violations and pedestrian injuries; it also increased cycling. Pedestrian injuries decreased by 43% and the overall level of confidence increased significantly.
Luchemos por la Vida and Madres del Dolor, Argentina
In Argentina two NGOs -Luchemos por la Vida in association with Madres del Dolor, have been working together to reduce the speed to 30 km/h on the streets, to reduce deaths and generate safer, greener and more liveable cities. The campaign used a mixture of public information and advocacy to engage city legislatures beginning in Buenos Aires and the Municipality of San Isidro (a suburb in the province of Buenos Aires), and the enormous interest aroused motivated the organizations to spread the proposal throughout the country. The successful response received by 22 cities, prompted Luchemos and Madres to continue holding meetings and disseminating the topic throughout 2021 and 2022, expanding the goal to new cities, provincial authorities and the National Congress. The programme has continued to grow and now 30 cities, with a total population of 20 million, are delivering 30 km/h. Read more HERE.
Carros Más Seguros, La Liga Contra La Violencia Vial, Colombia
Focus groups showed that Colombians did not know that most of the cars sold in the market did not include minimum safety features recommended by the WHO to protect lives. La Liga Contra La Violencia Vial coordinated a mass media campaign to demand safer cars.
A pre-campaign survey and found that Colombians ranked vehicle safety standards 7th when purchasing a new car. Providing information and raising awareness on the real condition of vehicle safety and increasing demand for safer cars was the main purpose of the campaign, as a step towards changing the market and the regulations. The campaign's overall objective was to make vehicle safety conceived as a right for everyone, and not as a luxury for a few.
Driving Change: Facilitating Self-Advocacy for Garment Factory Workers, Cambodia (initiated with support from Alliance member AIP Foundation working in partnership with a number of retail brands)
From 2020-2022, the VF Corporation tackled factory worker transport safety with a programme establishing peer-to-peer Road Safety Working Group (RSWG) at six garment/footwear factories in Cambodia. These consisted of factory workers, union representatives, driver association representatives, administrative staff, and managers who received training in road safety issues, to develop road safety policies, implement action plans, and lead awareness activities. They fostered leadership in factory staff to self-advocate for safer commuting conditions and make their peers' suggestions a reality. The aim was to ensure that workers' commutes to be a recognized occupational health and safety issue which factories, brands, and industry stakeholders treat seriously as a factor for economic and industry growth.
Supporting Data Collection for Regional Road Safety Observatories (iRAP)
With funding from the World Bank's Global Road Safety Facility, iRAP and Agilysis have delivered a ground-breaking research and development project to mine innovative data sources for road safety to support the African Road Safety Observatory (ARSO). Novel sources of satellite and street imagery data were used across Kenya and Ethiopia to trial the detection of speed, flow and other road features for the measuring and monitoring of road safety indicators.
EASST Road Safety Education Pack (EASST)
The Road Safety Education Pack is a free resource for teaching basic road skills to children and a tool for leveraging support for road safety activities among key stakeholders. It focuses on examples which children aged up to 14 can relate to in their daily lives, reflecting risks and challenges in LMICs. It is also used as an engagement device to involve municipalities, police and others in discussions and meetings on road risk. It is locally adaptable and available in sixteen languages.
---