Global Meeting: High-Level Symposium Highlights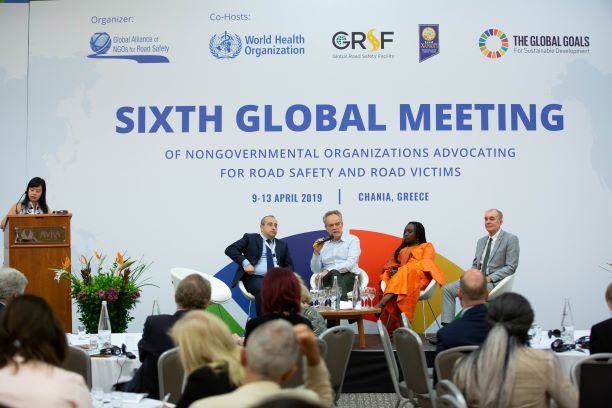 The High-Level Symposium hosted by the Alliance and Towards Zero Foundation was an opportunity for NGOs to discuss and hear the views of experts on the Decade of Action for Road Safety 2011–2020, the Sustainable Development Goals and road safety policy toward 2030, with a focus on the upcoming Third Global Ministerial Conference in Sweden. The symposium was opened with a video message from HRH Prince Michael of Kent and a welcome by the Mayor of Platanias, Ioannis Malandrakis.
Read on for a recap of each of the three high-level panels.
---
Session One: Decade of Action for Road Safety 2011–2020 (Decade of Action) from an NGO perspective and toward 2030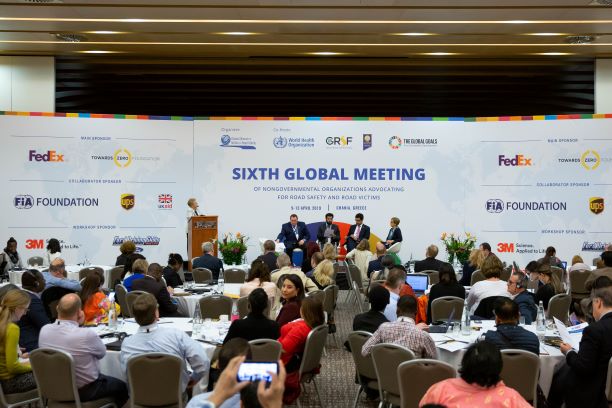 Panelists:
Emma MacLennan, Director, Eastern Alliance for Safe and Sustainable Transport, UK, & President, Make Roads Safe Hellas, Greece
Aymed Shelbaya, Founder, The NADA Foundation, Egypt
Ilias Kanchen, Chairman, Nirapad Sarak Chai, Bangladesh
Rock Sherman, Vice President, Road Network Operations Europe, FedEx Express
Moderated by Rochelle Sobel, Board Member, Alliance, & President, Association for Safe International Road Travel
Key points: 
The Decade of Action gave a framework for road safety and an opportunity to benchmark the work that was being done.
Capacity and resources to achieve the Decade of Action are insufficient especially in comparison to the attention given to other non-communicable diseases. 
"We need to learn from the successes of other fields." Aymed Shelbaya
A lot has been achieved with limited resources but success does not come easily, it takes a long time and sustained effort.
The growth of NGO capacity in low- and middle-income countries is testament that the Decade of Action has made a difference.
A change of approach is needed: increased accountability and tools to monitor progress.
NGOs have something to offer their governments. They need to do it in a way that offers assistance instead of "punching" government.
Youth are valuable campaigners because they are passionate but sustaining that passion is the challenge, young people change and move on quickly. We need to empower them to continue their work and support their efforts.
The Alliance needs to pool good NGO examples to inspire others. Numbers are good but stories add tangible meaning.
"There is a tendency to say that only the numbers matter…We need to evaluate the political gains as well as the numbers." Emma MacLennan
---
Session Two: Road safety policy perspectives toward 2030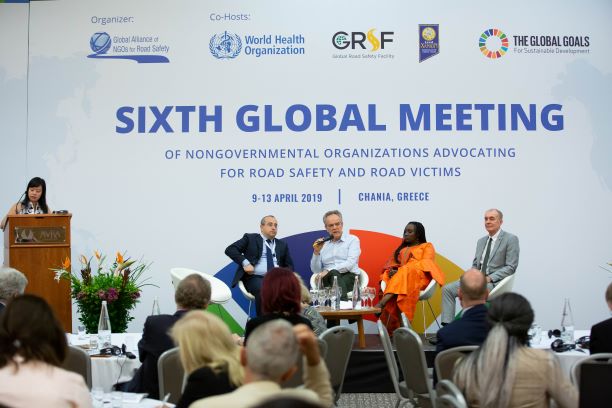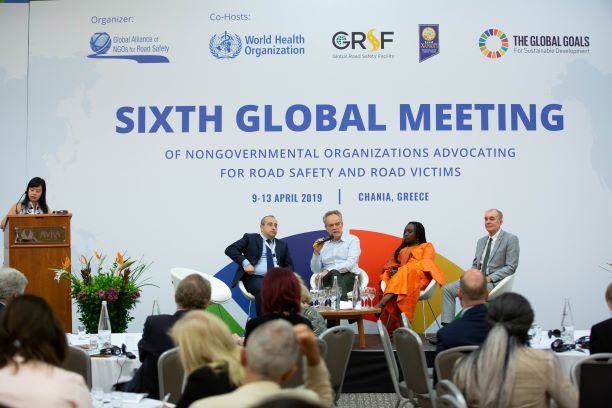 Panelists:
Dr. Etienne Krug, Director, Department for Management of Noncommunicable Diseases, Disability, Violence & Injury Prevention, World Health Organization
Ndeye Awa Sarr, Board Member, Alliance, & President, LASER International
Dr. Soames Job, Global Lead, Road Safety, World Bank & Head of Global Road Safety Facility, World Bank
Antonio Avenoso, Executive Director, European Transport Safety Council
Moderated by Jessica Truong, Vice President, Towards Zero Foundation
Key Points:
The target to reduce road deaths by 50% has not even been achieved in the European Union which has the best record on road safety improvements.
The target was very optimistic: we need to move it from 2020 to 2030.
Money is needed to help UN Member States to improve infrastructure.
Reliable data is difficult to come by especially in LMICs. NGOs are pushing for data but they are not the data authority. Private-public partnerships are bridging the data gap.
Child safety is a particular issue for LMICs. In the cycle of poverty, even attending school is difficult without the additional issue of unsafe roads. This is a vicious cycle.
Funding for road safety is insufficient. World Bank alone cannot sustain it. Governments need to invest based on the effect of the cost of crashes on GDP.
"[To achieve the goals] the level of funding that road safety needs. And that level of funding needed is vastly underestimated." Soames Job
Transport systems need to put people at the center and consider pedestrians, cyclists, and mass public transport.
This doesn't mean that we shouldn't develop cars but we need to put more checks and balances in place: taking a safe system approach, improving the safety of cars particularly in LMICs and making sure that all countries have penalties for committing a 'crash crime'.
Funding is a big issue at national level as well as for NGOs. Lack of money is a characteristic of NGOs. We need to professionalize our approach and demonstrate that funding will be used well.
"Stop saying there is no money…there is money…let's find out how to access it." Etienne Krug
We need to focus not so much on the national government ministers but on the person responsible for road safety: ask them what they need to get the job done and how you can help them. NGOs may be able to say things that they can't: "keep criticizing and I can use that."
Panelists were asked how they would use a pot of money if they had one to improve road safety in the most effective way. Responses included:

To gain political will by demonstrating what successes have been achieved and that can be replicated, using media, awards for successful work etc.
To address speed management because "that is where we would get the biggest bang for our buck."
---
Session Three: Road Safety and the Sustainable Development Goals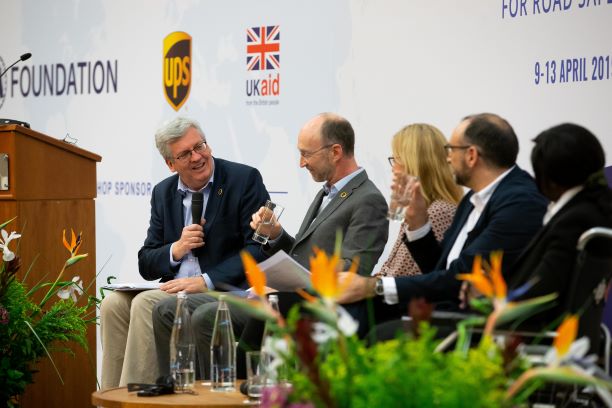 Panelists:
Matthew Baldwin, European Road Safety Coordinator, Directorate General for Mobility and Transport, European Commission
Laura Dolci, Head, United Nations Road Safety Trust Fund, United Nations Economic Commission for Europe (UNECE)
Bright Oywaya, Executive Director, ASIRT – Kenya
Saul Billingsley, Executive Director, FIA Foundation
Moderated by David Ward, President and Chief Executive Officer, Towards Zero Foundation
Key Points:
"Really it's been a decade of preparation, of mobilization, of building capacity. In a way, the real decade of action and implementation is the one that is coming." David Ward
During the next decade we need to integrate road safety with other sectors including those focused on GDP impact and the environment.
We need to keep emphasizing the importance of the SDGs and in particular the cross-sectoral scope.
"What the SDG agenda has taught us: noone has the key alone." Laura Dolci
We need to work out how to engage with other issues and leverage their strength to bring road safety up the agenda.
We must also be aware of the "competition": other issues are also vying for attention and have good arguments for support.
"It's like trying to get into a nightclub…We need to use the big guy to get us through the VIP door." Saul Billingsley
NGOs have a valuable role to play: in Europe the reduction in road traffic injuries and deaths could not have come without the NGOs. UN agencies need to partner with NGOs and treat them as equal partners.
---