FedEx Express and the Global Alliance of NGOs for Road Safety Embark on Two-year Collaboration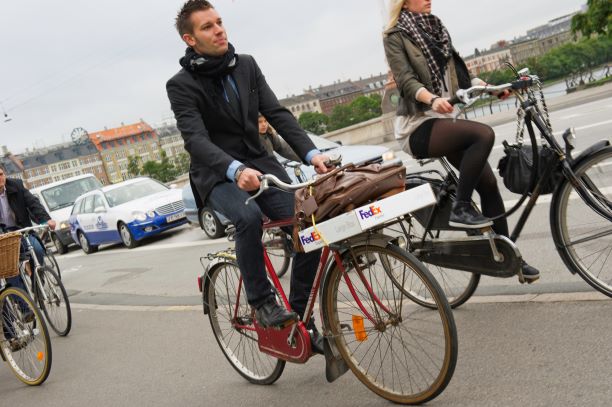 Social Responsibility Project Looks to Cycling Cultures of Copenhagen and Amsterdam to Promote Safer Cycling in Balkan Cities
FedEx Express, a subsidiary of FedEx Corp., and international non-profit the Global Alliance of NGOs for Road Safety have launched the Safer Cycling Advocate Program, a two-year collaboration aimed at improving safety for vulnerable road users in Balkan cities.
The Global Alliance of NGOs for Road Safety, a network member organisation that brings together more than 220 road safety organisations, will engage its member NGO, the European Cyclists Federation (ECF), to define the safe cycling practices that have proven successful in the central European cities of Copenhagen and Amsterdam. This best practice information will later be used by community organizations looking to promote cycling culture and reduce road fatalities in cities in Croatia, Slovenia and Bosnia.
European roads are some of the safest in the world, but in 2016, the European Commission estimated the social cost of road traffic incidents to be around €100 billion. Cyclists account for 8% of all road traffic fatalities in Europe. Croatia, Slovenia and Bosnia have all seen an increase in cycling but also have a pressing need to improve cycling road safety.
"As the United Nations Decade of Action for Road Safety nears to a close, this is the ideal moment to deliver a significant push towards safer roads in Europe," said Rock Sherman, vice president, European Road Network, FedEx Express. "Road safety has long been a focus area for us. By collaborating with a non-profit that connects road safety charities, we are helping to share valuable information with organisations looking to deliver positive change in their own communities."
The Safer Cycling Advocate Program has received funding under FedEx Cares, a social responsibility program focused on investing charitably in communities around the world. This is the first FedEx-funded project to focus on improving road safety for this vulnerable user group in Europe.
"As influencers and spokespeople for their communities, non-profit organisations are well-placed to push for policies and infrastructure that will make cycling safer and more attractive to members of the community. This project will take what has been learned in cities such as Copenhagen and Amsterdam, and equip community-focused organisations so that they can advocate for regulation, promote safe cycling and, ultimately, aim to reduce fatalities on European roads," said Lotte Brondum, executive director, Global Alliance of NGOs for Road Safety.
The results of the project will be shared at the 26th meeting of the UN Road Safety Collaboration in Sweden, February 2020, where it is anticipated the agenda for future road safety priorities will be set.
FedEx Express and the Global Alliance of NGOs for Road Safety have worked together for several years. The company also sponsors the Alliance Empowerment Program, a capacity-building program that strengthens the abilities of grassroots non-profits to push for road safety implementation and change.
---