Civil society hearing on Sustainable Development Goals in New York 26-27 May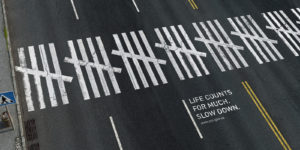 With the United Nations currently in the process of defining a post-2015 development agenda, the President of the UN General Assembly organized, in conjunction with the co-facilitators for the post-2015 intergovernmental negotiations, two days of informal interactive hearings with representatives of non-governmental organizations, civil society organizations, major groups, and the private sector on 26-27 May 2015 in New York, USA. There were numerous inputs to the agenda, notably a set of Sustainable Development Goals (SDGs) proposed by an open working group of the General Assembly (GA), the report of an intergovernmental committee of experts on sustainable development financing, GA dialogues on technology facilitation, and many others.
The importance of road safety and road traffic crashes were among issues highlighted in the Open Working Group proposal for SDGs. Goal 3 of the SDGs indicates the intent to "ensure healthy lives and promote well-being for all at all ages," with sub-goal number 6 stating that "by 2020 halve global deaths and injuries from road traffic accidents." Under Goal 11 which aims to "make cities and human settlements inclusive, safe, resilient and sustainable," sub-goal 2 indicates that "by 2030, provide access to safe, affordable, accessible and sustainable transport systems for all, improving road safety, notably by expanding public transport, with special attention to the needs of those in vulnerable situations, women, children, persons with disabilities and older persons." The synthesis report of the UN Secretary in December 2014 included action on road traffic fatalities as a health priority. The importance of road safety as a cross-cutting issue has particular burdens—economic, social, health—in lower and middle income countries, and is likely to get worse unless urgent action is taken.
The interactive hearings provided an opportunity for representatives of non-governmental organizations, civil society organizations, major groups, and the private sector to exchange views and make proposals on the post-2015 development agenda at a critical stage of the intergovernmental negotiations. The interactive hearings are aimed at fostering active participation and ensuring regional and gender balance, diversity of expertise, sectors and age among speakers to contribute to the formulation of the new development agenda. It is expected that the zero draft of the summit outcome document will be issued by the end of May 2015.
---