Citizens Take Action on Bangladesh's Road Crisis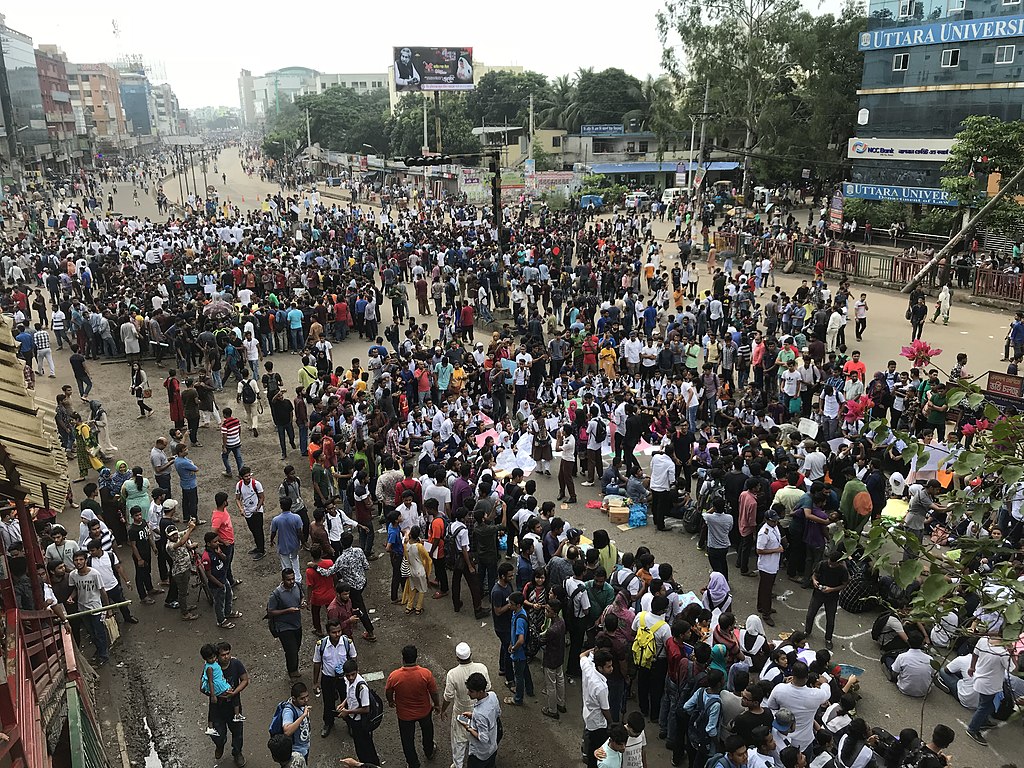 Official government statistics in Bangladesh report some 2,500 road deaths each year, although WHO estimates that the actual figure is 21,316—a rate of 13.6 per 100,000 people. High road-fatality rates are not a new issue in Bangladesh, but a recent incident brought road safety sharply into focus there. On 29 July 2018, two students waiting for a bus in Dhaka were struck down and killed by a bus driver who lost control. It is reported that the driver was racing another bus to pick up passengers. A number of other students were injured.
While this incident could just have been one of the many—just two more young lives lost unnecessarily on the road—the Dhaka student community decided not to accept it. A safe journey to and from school or college should be a right for all, and no fatalities on the road should be acceptable. The students initiated unprecedented action and national protests that have attracted worldwide attention. The government's handling of the situation and its attempts to suppress students and journalists have led to criticism from the European Union and other global entities and further calls for Bangladesh to deal with its road safety crisis.
The situation
Many of the city's buses are not registered, and often drivers have not been trained or had their eligibility to drive a bus checked. Buses are often rented to drivers who feel they need to drive fast to collect enough fares to pay for the bus.
What happened?
Following the crash, the students took action. Within days, they had organized demonstrations attended by thousands of young people demanding that the government prioritize road safety, bringing roads in Dhaka to a standstill. They formed roadblocks, assisting the police to check drivers' licenses and vehicle safety, and ensured enforcement of traffic rules, such as keeping the emergency lane clear, helmet wearing, etc. The students also issued nine demands, which can be found at the bottom of this article.
How did the government react?
The government reaction was to try to put a stop to the protests. According to international press reports, clashes occurred between police and pro-government groups and the protesters, with the police firing tear gas to disperse the crowds; some reports said that they also fired rubber bullets. Students, activists, and journalists were injured and arrested; the government closed down educational institutions; and 3G and 4G networks were disrupted.
What is the government doing about road safety?
Despite this, there are signs that the government is listening and taking action. A new road transport act (Road Transport Act 2018) has been approved and harsher penalties for those who cause road deaths are under consideration. A road traffic week has been declared, and enforcement of traffic offenses has been increased, with a particular focus on seat belt usage for drivers and passengers, and to compel pedestrians to use under- and overpasses where available. An underpass will be constructed at the crash site.
What are the issues?
A combination of issues have hampered progress on road safety until now: a lack of understanding of road safety at government level, underreporting of crashes, low levels of enforcement, bribery at all levels, and conflicts of interest where government officials have business interests in the public transport industry. The press in Bangladesh has a strong interest in road safety, but greater strategic input is required to help maximize media impact on this issue.
What are NGOs doing?
Several Alliance member NGOs are working in Bangladesh, pushing forward the agenda for road safety. 
BRAC is actively working with driver training, both for novice drivers and professional drivers, through their Surakkha road safety and defensive-driving program. Using the Community Road Safety Program (CRSP), BRAC is implementing "Safe Roads for Women and Girls" in two districts with a vision to encourage crash- and harassment-free travel on public transport. In light of the protests, BRAC is renewing its call for better training of heavy vehicle drivers.
The Centre for Injury Prevention and Research Bangladesh (CIPRB) is working with Safe Crossings, Netherlands, to implement road safety infrastructure including speed bumps, bus stops, and rumble strips on the Dhaka-Sylhet highway, in a project that has reduced fatalities on the improved stretches of road more than 60%. 
AIP Foundation has been active with government and the media in Bangladesh in advocating for road safety.
Ratanawadee Winther, Chairperson, AIP Foundation Thailand, said, "The recent tragic incident followed by unprecedented protest by young people in Dhaka is a manifestation of a paramount problem of the road safety situation in Bangladesh. It requires immediate attention and leadership prioritizing the right of every citizen to be safe on the road and responsibility that is shared by all stakeholders."
Engineer Arif Uddin, Manager, Road Safety Program, BRAC, said, "Instead of taking piecemeal initiatives, the policymakers should come up with a comprehensive initiative for ensuring road safety. This has to address all the pillars of road safety as the Safe System approach suggests. To ensure this, proper crash data is obligatory. Unfortunately, this is where we all lag behind."
Lotte Brondum, Executive Director of the Alliance, reiterated support for all those seeking safer roads in Bangladesh: "The Alliance stands with the NGOs and people of Bangladesh. Road safety should be a human right, and we support our members' efforts to push the Bangladeshi government to fulfill its responsibility to its people and to the global goals to which Bangladesh, as a UN Member State, has committed."
It is important that momentum is retained, and the Alliance will be supporting its NGOs in Bangladesh to keep the government accountable and ensure that the students' impact is not forgotten.
Students' Nine Demands
Reckless drivers should receive capital punishment and provision for such punishment should be incorporated into the constitution.

Shipping Minister Shajahah Khan must withdraw his statement and apologize to the students.

Construction of a foot overbridge or alternative arrangement to ensure safety for students' movement at the spot of Sunday's incident; construction must start within seven days.

Setting up speed breakers in every accident prone road.

The government has to take responsibility for the students killed or injured in road accidents.

All intra-city buses must stop and pick up students when they ask.

Students should be allowed to pay discounted fares in every part of the country including Dhaka.

Vehicles must not be allowed on the streets without fitness certificates and drivers must not drive without licences and updated paperwork.

No bus can take excess passengers.
---