Campaigning for Standardized Helmets in India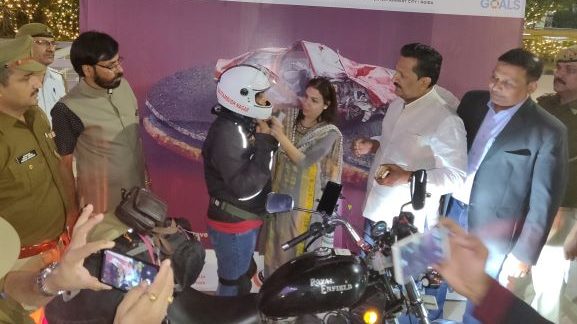 In India, riders of motorized two- and three-wheel vehicles account for over 70% of vehicles on the road and 40% of road fatalities. Of those travelling by motorcycle, only 30% of drivers and less than 10% of passengers wear a helmet. Additionally, 85% of motorcycle helmets worn do not meet safety standards. Many sub-standard helmets provide little protection and, in some cases, can cause more serious injuries than not wearing a helmet at all.
TRAX S. Society has taken up the issue of safe riding and safe helmets, tackling the problem from several angles. It began with a Delhi-based campaign entitled "Helmet India" and has now launched a national "Safe Riding Initiative." 
Advocacy
From an advocacy perspective, TRAX is pushing for safe, standardized helmets to become the norm. 
It organized state-level stakeholder meetings in Odisha and Delhi in association with the Ministry of Road Transport and Highways (MORTH) and the Central Road Research Institute, and engaged national media. The Minister committed to make standardized helmets mandatory.
Recently, MORTH has issues a notification to bring motorcycle helmets under the Bureau of Indian Standards Act, 2016, meaning that helmets must meet safe manufacturing standards. There is someway to go before the details are finalized and TRAX have been working with stakeholders, NGOs, and manufacturers, to bring inputs to the public consultation on the Act. 
Awareness
Through awareness programs they aim to demonstrate the dangers of sub-standard helmets and unsafe driving. Recently, Pooja Yadav, a female biker and TRAX ambassador who was motivated to act after contact with a number of incidents that could have been averted if victims had wore helmets, completed a 10,000 kilometer motorcycle journey to 15 states and 42 cities around India. The aim of the ride was to raise awareness of safe riding and the importance of Indian standard ISI helmets. The aim of the ride was to raise awareness of safe riding and the importance of Indian Standard ISI helmets as well as to impose ban on sale and manufacturing of sub-standard helmets. Along the way, she has met decision makers including enforcement agencies and gathered commitments from the Principal Secretary, Transport Commissioner, Senior Superintendent of Police, Additional Director General of Police, District Magistrate and politicians.
The initiative involved NGOs across the country as well biker groups and generated plenty of media attention.  It was supported by a number of Alliance members including Muskaan Foundation, Safe Drive Save Life, Sudeekshan Foundation, Forum for Prevention of Road Accidents, Women & Child Welfare Society, as well as many others including Buckle Up for Safety,  Jhunjhunu Vikas Samiti, Mithila Foundation, Jan – Akrosh, VEEDHU, Arise India Foundation, ARJ Foundation,  and Rajasthan Sadak Suraksha Society. 
Read more about TRAX HERE.
---