BRAC Article Explores Road Safety in Bangladesh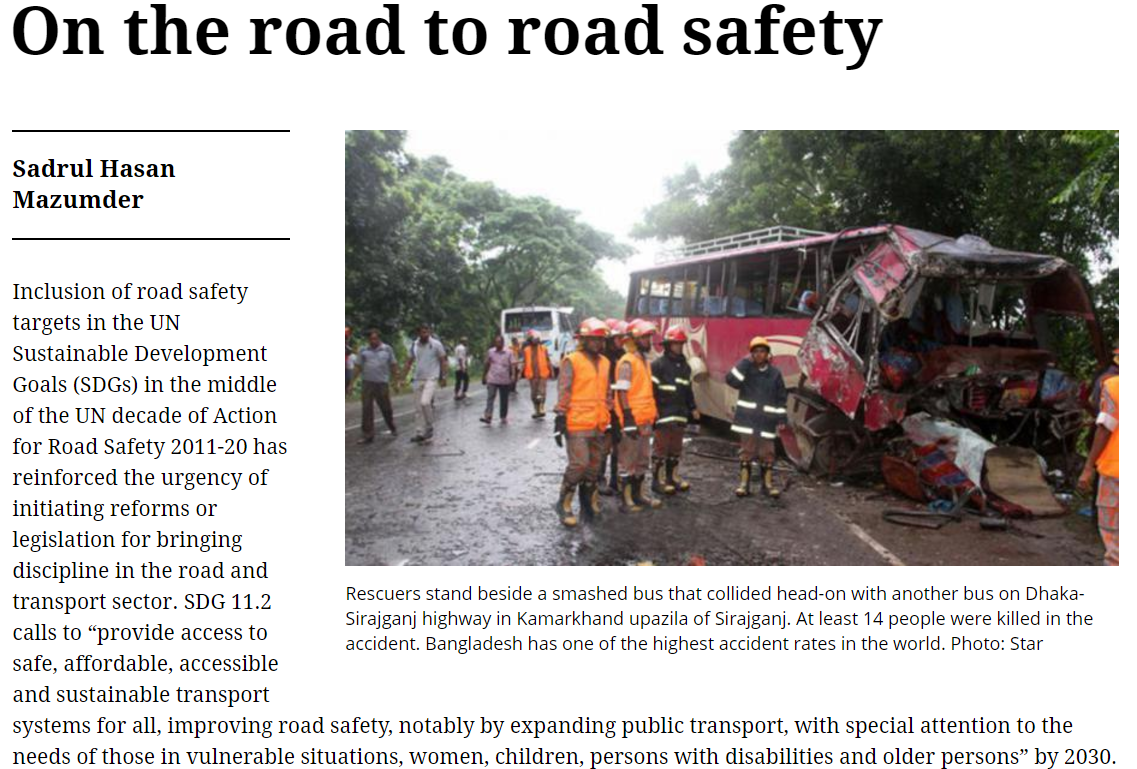 "In low and middle income countries, the cost of road traffic injuries lies between one to two percent of GDP, which clearly suggests that countries like Bangladesh should adopt immediate measures to reduce losses caused by road accidents and keep pace with the nation's transition to becoming a middle-income economy by 2021."
Alliance member BRAC, know well the problems that cause Bangladesh to have one of the worst crash rates in the world. The statistic above comes from a BRAC research study and in an opinion article written by Sadrul Hasan Mazumder, Programme Coordinator at BRAC for national newspaper, the Daily Star, he talks of the causes of road traffic accidents in Bangladesh, and the legal, legislative, and cultural issues that prevent the situation from improving.
In his article, Sadrul points to population explosion, unplanned urbanization, and tremendous growth of motorized as well as non-motorized, and para-transit vehicles, contribute to the causes of Bangladesh's high crash rate. Attempts to reduce the number of road crashes and road deaths have been hindered by a number of factors including lack of skills and resources in government departments responsible, a culture that blames vehicle operators without conducting proper investigation, and problems around the treatment of victims in the "golden hour" after a crash. As previously in neighboring India, good samaritans who help crash victims risk legal consequences, and some hospitals will not treat emergency crash victims. 
Sadrul makes a number of recommendations, including mandating public and private hospitals to provide emergency care to crash victims, training for the police in crash investigation, and legislation to be implemented quickly that involves road safety stakeholders in the consultation process.
Read the full article HERE. 
---