Be ready for Brazil – catch up on the SDG dialogue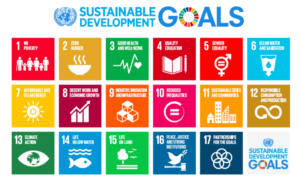 At the upcoming 2nd Global High-Level Conference on Road Safety in Brazil, many people will be talking about the newly adopted UN Sustainable Development Goals (SDGs), because, for the first time in SDG history, road safety is included as targets under two of the defined goals. It is important, leading up to the conference, to have a well-rounded understanding of the SDGs, how they were developed, and what independent researchers and journalists have to say about them. With an solid understanding of the dialogue that has taken place, you will be in a great position to advance the dialogue towards how the goals will be reached – road safety targets, included! As the on-the-ground experts in road safety, we play an important role in successfully reaching these targets.
Below are some online resources that can help you familiarize yourself with the SDGs—what they are, how they came to be, the surrounding debate, and commentary specifically related to the road safety targets.
Overview of SDGs:
Sustainable Development Knowledge Platform; United Nations 
Breakdown of UN Sustainable Development Goals; New York Times
Sustainable development goals: all you need to know; The Guardian
Sustainable Development Goals: Backgrounder; CFR, independent think tank
The Post-2015  Sustainable Development Goals: a historic opportunity; scholarly report from New York University
Financing the SDGs:
Report of the Intergovernmental Committee of Experts on Sustainable Development Financing; published by the Intergovernmental Committee of Experts on Sustainable Development Financing
Some press commentary on SDGs:
Worthy of support; The Economist
At the U.N., a Free-for-All on Setting Global Goals; New York Times
How to Write The World's To-Do List; The New Yorker
SDGs and the inclusion of road safety targets:
Road safety officially included in Post-2015 Development Agenda at UN Summit; Global Alliance of NGOs for Road Safety
Timeline: The Campaign for a Road Safety SDG; FIA Foundation
What would it take to halve the number of road deaths by 2020?; The Guardian
The Next Step for Transport in the SDGs: Devising the Right Indicators Shaping Transport's SDG Impact; The World Bank
Financing for Development: Catalytic Funding for Global Road Safety in the SDGs; publication by FIA Foundation
What targets related to environment, sustainable cities, and road safety have in common:
Share the Road: Increase Investment in Walking and Cycling Infrastructure; United Nations Environment Programme (UNEP) 
Why are the two most sustainable forms of transport missing from the UN Sustainable Development Goals?; The City Fix
Want healthy, thriving cities? Tackle traffic safety first; The City Fix
Gloal 11: Make cities inclusive, safe, resilient, and sustainable; United Nations 
---