2015 World Day of Remembrance for Road Traffic Victims draws attention globally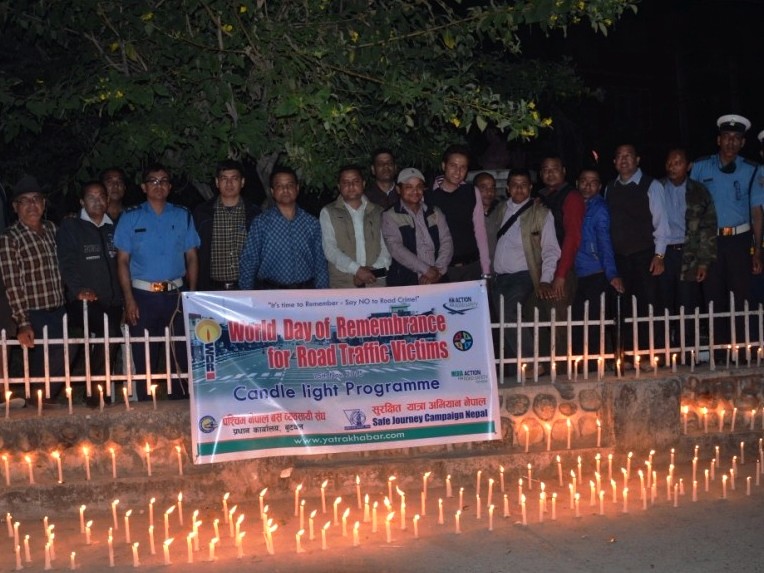 The annual World Day of Remembrance for Road Traffic Victims was commemorated this year  on 15 November. To date, 65 events have been recorded on the official World Day of Remembrance (WDoR) website ranging from marches, religious services of all faiths, conferences, seminars, exhibitions, campaigns, and more taking place all over the world. These events were spearheaded by organizations, including many Alliance members, working in road safety and road victims' rights around the world. Leading up to the 2015 WDoR, the official website received visits from 191 (out of 196!) countries, with the most visits coming from the United States (8,600 visits), India (7,015 visits), and United Kingdom (5,270 visits), followed by Ireland, Australia, Brazil, and Pakistan, with over 1,000 website visits each.
To read about specific events or campaigns conducted in your country and around the world on the 2015 World Day of Remembrance, visit the official website at worlddayofremembrance.org. If your organization commemorated the WDoR but your event is not on the website, it is not too late to submit details including an overview and photos through the website. Further, organizations who submitted their event plans before the WDoR are encouraged to update their website entry with photos and reports.
The theme for the 2015 WDoR was "From Global Remembrance to Global Action across the Decade:  "It's time to remember – say NO to road crime!" This year marked a significant milestone for the WDoR, as it celebrated the 10th anniversary of UN recognition of the WDoR and the 20th anniversary of first establishment in 1995 by the European Federation of Road Traffic Victims (FEVR).
At the Prince Michael International Road Safety Awards ceremony held prior to the 2nd Global High-Level Conference on Road Safety in Brazil last month, FEVR received a prestigious award acknowledging their ongoing stewardship of the WDoR over the years.
---