Emergency Care in Colombia
Emergency Care in Colombia
Funded by the Puma Energy Foundation, the Alliance is working with local partner, Meditech, to pioneer a community-based intervention model for post-crash response and emergency care in Colombia that will empower communities to take ownership for road safety in their local area and which could be replicated in other communities in Colombia and other countries. Through awareness and education, and simple life-saving training, the program equips community volunteers to become agents for change, advocating with and for their communities. It is hoped that the project will lead to a community-based engagement model that will strengthen grassroots advocacy and enable local communities to push for better post-crash response and care of victims policy.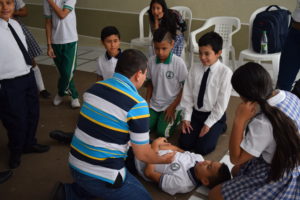 The project was informed by a baseline study that found that:
8.9% of respondents had been in a road crash in the last year

48.7% had witnessed a crash

Bystanders would intervene to help road victims if they felt they had the knowledge to do so

Most respondents did not know the emergency number

In three communities, the national emergency number was not activated.
Results so far:
450 community volunteers in eight communities trained in post-crash care

740 school students received educational workshops

Four sets of ambulance equipment distributed

Six roundtables with local authorities to discuss regulation of first responder regulation

Six community advocate groups organized using WhatsApp to communication

Development of an emergency care app to trigger the emergency service response

Commitment from the Ministry of Health to make emergency care one of four top priorities during the next government.