World Day of Remembrance 2018
World Day of Remembrance 2018
World Day of Remembrance for Road Traffic Victims is commemorated on the third Sunday of November each year – to remember the many millions killed and injured on the world's roads, together with their families, friends and many others who are also affected. It is also a day on which we thank the emergency services and reflect on the tremendous burden and cost of this daily continuing disaster to families, communities and countries, and on ways to halt it. The European Federation of Road Traffic Victims (FEVR) is creator, owner and producer of  the World Day of Remembrance.
"Roads have Stories" is the theme of the 25th World Day of Remembrance for Road Traffic Victims to be held on Sunday 18 November 2018.
FEVR has published a number of resources including a video, posters, and fonts to help you promote World Day of Remembrance. Find them on the official World Day of Remembrance website HERE or in Google Drive format HERE or download by clicking on the images below.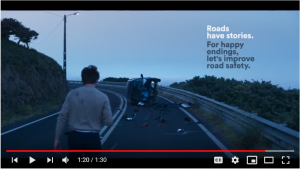 FEVR has also produced an official video for World Day of Remembrance 2018, which you can see HERE or by clicking on the image.
To complement the theme and materials from FEVR the Alliance's has produced a social campaign for World Day of Remembrance 2018. We ask you to help us amplify the important message by using social media to spread the "Roads have Stories" theme.
Our Campaign
The Alliance and WHO have created social media banners based on stories from NGOs around the world that promote key messages connected to the Global Road Safety Performance Targets (the Voluntary Targets).
Click on each image to see the story behind it and download the banner for social media. Alternatively, you can see and download all the images and stories HERE or in the Google drive folder HERE. 
NOTE: You cannot alter these banners or add your own images or logos to them. The images, templates and logos are copyrighted and can only be used in their original form.
For tips on designing your own message, see below.
To get involved with our campaign:
Download the banners and share our banners using the hashtags #WDoR2018 and #RoadsHaveStories and tagging @roadsafetyngos. Do not alter them.
You can also use FEVR's official materials including the poster, social media banner, and video to promote the theme.
Alternatively, follow @roadsafetyngos and share our posts in the run up to World Day of Remembrance.
We also encourage NGOs to share their own stories of their roads via social media in the form of a picture and a short message using the hashtags #WDoR2018 and #RoadsHaveStories and tagging @roadsafetyngos.
Your message could be an ask, a road safety message, or a success story. For more ideas and tips on designing your message HERE.
To make sure that key people such as decision makers and journalists will see your message. See our advocacy webinar HERE for tips.
Send us your photo and message to share in a gallery on our website.

Toolkit
To assist you in the campaign, we are putting together a tool kit including:
Click HERE to see the full tool kit in the Google Drive.