WDoR 2018: Mrs Nghia's Story
WDoR 2018: Mrs Nghia's Story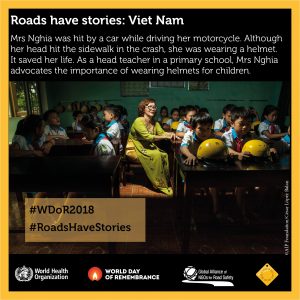 Roads have stories. The dark highway in Quang Nam Province, Viet Nam, could have told a very different story for Mrs Li Thi Dang Nghia late one evening in 2017. 
Mrs. Nghia was crossing an intersection on a national highway  on her motorcycle. Despite being a careful driver herself, another vehicle crashed into her and she was thrown to the ground. Her head hit the sidewalk and she was knocked unconscious. Fortunately, Mrs. Nghia was wearing a helmet ("hat insurance" in the direct translation from Vietnamese). Although she was injured, it could have been much worse: use of a helmet has been proven to reduce the risk of death by 42% and serious injury by 69% in a crash.
Mrs. Nghia is a head teacher at a primary school that participates in Helmets for Kids, an initiative from NGO AIP Foundation, which provides road safety education and provides students and teachers with quality helmets that meet national safety standards. It is estimated that only 19% of helmets in Vietnam meet these standards. Through the program, helmet use among students at her school has increased from 0% to 99.5%
Mrs Nghia and her students understand the importance of wearing a helmet and her experience has made others think: many people have asked her about the quality of her helmet and where they could get one.
Says Mrs. Nghia, "My story has resonated with people who see that my experience could have been very different if I hadn't been protected by a helmet."
Read more about Mrs. Nghia's story in Head First: A Case Study of Vietnam's Motorcycle Helmet Campaign and more about AIP Foundation HERE.

To download the banner to share in your own social media posts, click on the image above, then right click and select "Save As."