WDoR 2018: Justin Kabwe Primary School
WDoR 2018: Justin Kabwe Primary School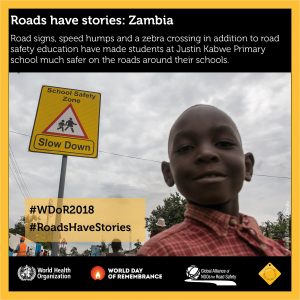 Roads have stories. Walking to school used to be a daunting experience on this road for the 3,000 students on their way to Justin Kabwe Primary School, Lusaka, Zambia. Drivers would speed past and there was no crossing, so the children would dodge between cars, hoping that they had judged the distance correctly. Sometimes students from the school were hit and injured by speeding vehicles. The most dangerous time of day was the peak morning time, when an average of 652 vehicles and 1,610 pedestrians per hour were all trying to reach their destinations.
In 2017, NGO Amend and its partners assessed the area outside the school. They identified simple measures that would slow the traffic down and enable pedestrians to cross the road safely. The measures weren't complicated or expensive: signs instructing drivers to slow down in front of the school, speed humps, and a zebra crossing, plus road safety education, teaching the children to be safe and responsible on the road. The new safety measures have made a big difference.
Justin Kabwe Primary School's head teacher, Mr. Morgan Kasela observes, "We have noticed a change in behavior on the part of drivers due to the new infrastructure in place. Drivers who did not previously notice they were driving near a school [where] there are pupils present now do. The drivers are also more conscious when approaching the zebra crossing and exercise caution."
Driving slower makes the roads safer for all, especially pedestrians. The more you speed, the higher the risk of a crash and the severity of crash consequences. A 5% reduction in average speed can result in a 30% reduction in the number of fatal crashes.  
Now children at Justin Kabwe Primary School, many of whom were nervous about their daily journey to school, are safer and more confident. As one student observes, "when we cross, we cross with confidence and without fear."
Read more about Amend and their SARSAI schools program HERE.
To download the banner to share in your own social media posts, click on the image above, then right click and select "Save As."