WDoR 2018: Josephina's Story
WDoR 2018: Josephina's Story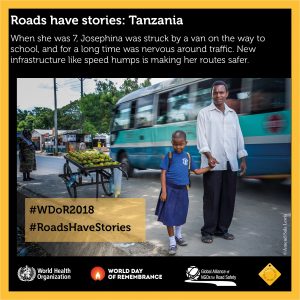 Roads have stories. Josephina was on the road outside her school when she was hit by a small truck while crossing to buy a samosa. She received a cut on the head and was off school for six days.
Although the physical damage has healed, Josephina is nervous around roads and her father, a carpenter, has to escort her to and from school every day, disrupting his work schedule.
In some of the most dangerous neighborhoods in Africa, over 4% of children are injured in road traffic every year. Roads often have no sidewalks, school gates open onto busy roads, road laws are not observed, and roads and vehicles are poorly maintained.
Around Josephina's school in Temeke, Tanzania, things have changed. Amend, an NGO working to improve safety at schools in sub-Saharan Africa, assessed the roads that Josephina and her fellow students walk each day. It identified simple measures that would improve safety in the surrounding streets: signs warning drivers that they are approaching a school, speed humps, and a crossing.
Now, drivers slow down and children can cross the road outside the school with confidence. Hopefully, one day Josephina will regain her confidence too.
To download the banner to share in your own social media posts, click on the image above, then right click and select "Save As."