WDoR 2018: Domen's Story
WDoR 2018: Domen's Story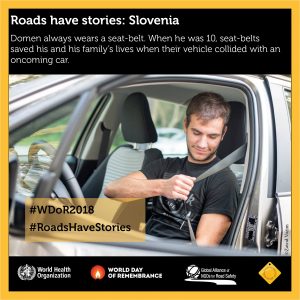 Roads have stories. The stories of those roads can have a lasting impression. Eight years ago, when Domen was ten years old, he and his family were returning home after visiting his aunt and cousins.
He remembers his mother checking that everyone had fastened their seat belts before they left. It was fortunate that she did. As they drove home, Domen was looking out of the window when, suddenly, his mother screamed. A split second later, they collided with an oncoming car that had veered into their lane. Domen says "The images I remember are horrible. My father turned around and asked if everyone was OK. He was all bloody, the airbag broke his nose and teeth. My sister was screaming and I started to cry." No one else in the family was badly hurt but the driver of the other car was seriously injured and spent a year in rehabilitation.
Domen says "When we got home from the hospital, I remember listening to my father's phone conversation with his sister. I heard him saying that the seat belts saved our lives. I did not fully understand the meaning of seat belt at the time, but that stayed with me till now."
Domen is a young ambassador for  Zavod VOZIM, an NGO that works with young people, event organizers, the media, and government decision makers to reduce drunk driving in Slovenia, through campaigns to change young people's attitudes to driving after drinking and by advocating for changes in legislation and for transport home from public events. Read more about Zavod VOZIM HERE.
To download the banner to share in your own social media posts, click on the image above, then right click and select "Save As."