WDoR 2018: Christ Mission School
WDoR 2018: Christ Mission School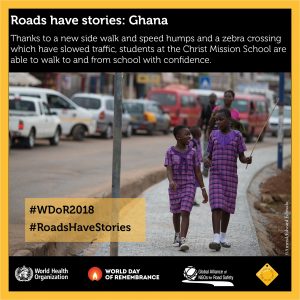 Roads have stories. The story of this road outside Christ Mission School, Accra, Ghana shows how simple changes to the road have made students safer. There is a sidewalk so that children can walk with confidence separate from the traffic, the passing cars are slower than they used to be and students can cross safely at the zebra crossing.
It hasn't always been this way. In 2016, NGO Amend assessed the area around the school and worked with the school and authorities to make safety improvements. Prior to this, road crashes involving children from the school were worryingly commonplace—three to four per term, most of them requiring hospital care.
Samson (not shown) was one of those hurt: "I did not feel happy when crossing the road before the improvements were made. I did not want to stand in front of the big cars because after the motorbike accident, my confidence was affected while crossing the road. Now with the zebra crossing, when I stand at the roadside the cars stop and some drivers even wave their hands for the other drivers to also stop."
The new safety measures have made a big difference to the students, the school, and the community as a whole.
Mr. Quansah, the head teacher at Christ Mission School says, "Now vehicles stop. Drivers are very careful when approaching the school. Everyone has been positively affected—parents are much happier and they feel comfortable when bringing their children to school, children feel safer and more confident now as cars stop for them to cross, and drivers are more conscious and cautious in front of the school."
Road safety infrastructure that helps drivers and pedestrians to act responsibly doesn't need to be expensive and the benefits are not only lives saved, but the right of every child to attend school safely and with confidence.
Read more about Amend and their SARSAI schools program HERE.
To download the banner to share in your own social media posts, click on the image above, then right click and select "Save As."