WDoR 2018: Child Seat Check Point
WDoR 2018: Child Seat Check Point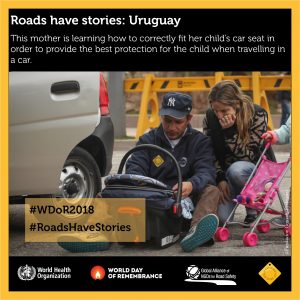 Roads Have Stories. Through the child seat check up point on this road, over a thousand children each year have safer journeys every day.
Every parent wants their child to be safe at all times. Unfortunately, even the most careful driver can find themselves in a dangerous situation on the road. Having the right protection in the car for every member of the family, especially the smallest, is essential. Children's bodies are different from adults' and the protection they need is different. The safest way for a child to travel in a car or other vehicle is in an age-appropriate, correctly-fitted car seat (child restraint system) that meets internationally recognized standards. Research shows that child restraints reduce the likelihood of a fatal crash by approximately 70% among infants and 54 – 80% among young children. In Uruguay, it is mandatory for children under 1.5 meters tall to use a child restraint.  
Fundación Gonzalo Rodríguez played a fundamental role in advocating for Uruguay´s current regulations on Child Restraint Systems and provided support for implementation of the technical of the regulation. It works both at policy level to improve public road safety public policies for the benefit of society as a whole and it also works at ground level, setting up a check up point for parents to make sure that their child's car seat is correctly fitted. 1,100 parents visit the check up points each year.
Says one mother, "We contacted the Fundación Gonzalo Rodriguez to be advised on the correct installation of the CRS. Unfortunately, accidents are unexpected, and they are not necessarily a consequence of our actions or happen during a long trip."
Read more about Fundacion Gonzalo Rodriguez HERE.
To download the banner to share in your own social media posts, click on the image above, then right click and select "Save As."