Third Global Ministerial Conference on Road Safety
Third Global Ministerial Conference on Road Safety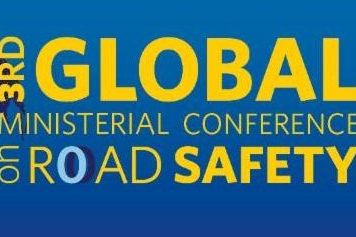 IF YOU HAVE QUESTIONS ABOUT ATTENDING THE CONFERENCE, READ OUR FAQs FOR NGOs HERE.
What is the Global Ministerial Conference on Road Safety?
The Third Global Ministerial Conference (Ministerial Conference) aims to reach high-level consensus for continued global road safety targets and collaboration up to 2030. It is primarily targeted at national government ministers and their delegations. It will also be attended by policymakers, corporations, academics, and NGOs working in road safety. Selected participants will now have received their invitations and the deadline to apply for an invitation has passed.  
What will happen at the conference?
The purpose of the conference is to share successes and lessons from implementation of the Global Plan for the Decade of Action for Road Safety 2011–2020 (Decade of Action): chart future strategic directions for global road safety up to 2030 and beyond: and define ways to accelerate action on proven strategies to save lives. The expected results of the conference are found in the Stockholm Declaration which will be signed on the final day. Read the draft declaration HERE.
Why is the conference important?
This is the final year of the Decade of Action. The Decade of Action has given road safety a strategic framework and built momentum in many countries, but the primary target, to reduce road deaths and injuries by 50% by 2020 will not be met and more time is needed to see it fully take effect. It is therefore key that governments commit to a new target for road safety at the Ministerial Conference and integrate this into their national strategies and policies. The conference will look at what has worked so far and what needs to be done and aims to get global agreement from national ministers to agree actions to make sure that the 50% target is achieved by 2030.
What can I do?
You can make a difference for road safety simply by getting the right people from your government to attend the Ministerial Conference and make sure that they are briefed before they go.
Check through your contacts that the relevant ministers in your country are attending and, if they are undecided, persuade them to prioritize it. You might not be able to contact the Minister directly, but use power-mapping to build relationships with influential people in their department.
If your Minister is attending, make sure that they are fully briefed:

Make sure they understand the issues at stake and how it affects citizens in your country. You may find it helpful to use the #CommitToAct campaign to highlight the need for commitment and demonstrate citizens' demands for road safety action. Find out more about the campaign HERE. Alliance member HI have put together a toolkit that can be adapted and used in your discussions with your decision makers. Find it HERE.
Make sure that they are aware of the purpose of the conference and expected outcomes as listed in the Stockholm Declaration. Find it HERE.
Invite them to join the Alliance pre-events. See more and sign up HERE.
Read more about the Third Global Ministerial Conference on the official website HERE.
The Alliance at the Third Global Ministerial Conference
The Alliance and its members are running three official pre-events on 18 February 2020 on the eve of the conference. Read more HERE.